Zach's Story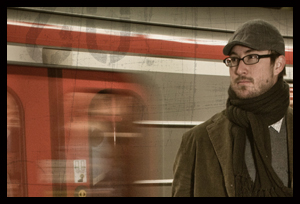 I'm a graduate from the University of Wisconsin – Oshkosh with a BA degree in Religious Studies, with an emphasis on Islam (after dabbling in Radio/TV/Film for 3 years). My world was turned upside down my freshman year of college, and, unknowingly I became a follower of Christ during that year. During my time at UW-O, I was heavily involved with Campus Crusade for Christ, ministry with my church RiverValley, and a smattering of other things. I was also a four year letterman on the football team with the TITANS at UW-O. Now I am a staff member with TEAM, and I'm serving full-time in the Czech Republic for a minimal 5-7 years with AIA and I hope to see God birth a church-planting movement in the process.
When I left for college in the fall of 1999, I thought I had a clue where my journey would take me. I was enrolling at the University of Wisconsin – Oshkosh to be the next Steven Spielberg. I pictured that my journey had celluloid, cameras, exotic locations, beautiful actresses, surely a boat load of money and my name in the big lights of cinemas all over the world. That was supposed to be my journey and that is what I wanted my journey to look like.
As a college freshman, I imagined the road of my life was much like a road you will find on the plains of Nebraska. It was a long road that you could look ahead and see for miles and miles, or in my case, years and years. Yes, it is true the end of that road couldn't be seen, but there was quite a bit between the horizon and me that I could see. Well, I was mistaken! The road wasn't going through the plains, but it was a road nearing the foothills of a massive mountain range. Those mountains didn't have roads that were straight or easy, but roads that were unpredictable and even terrifying at times!
Don't get me wrong I love the mountains. I love everything about them. The majesty, the snow covered peaks, the vertical drops that scream for me to test them on my skis, the beautiful pines, the jagged rocks, and even the twisting mountain roads. My mountain came in the form of a guy who walked this planet 2000 years ago. I thought I had known this mountain, but I had no idea of what He was or the turns and twists that He would bring in my life. If you haven't connected the dots yet, that mountain that seemingly dropped out of the sky and interrupted my peaceful voyage through the plains, was no other than Jesus Christ.
My freshman year at university I began the ascent into the mountains and there has been more twists and turns over the last six years that I could have never imagined. Jesus has been that ascent and now my journey in many ways resembles Jesus' journey that He made on our planet 2000 years ago. Luke, the physician speaks of it in his Gospel:
He [JESUS] went on his way through towns and villages, teaching and journeying toward Jerusalem. (Luke 13:22 ESV)
I no longer desire to see my name in lights, nor have the loads of money, but my simple desire is to go where ever the Mountain Roads lead me. On this journey, I hope to teach as many people, that will listen, about my journey towards Jerusalem. I don't speak of the earthly Jerusalem (I do, however, hope to physically journey there), but the heavenly Jerusalem, where I will spend my days being part of the biggest wedding party of all time. This wedding party will be of Jesus to His Bride, the Church. That will be a joyous day, but that Jerusalem isn't here yet. I have as many days ahead on this journey that the Lord will give me, and I now have the attitude of the great missionary David Brainerd, 'Oh, that I might never loiter on my heavenly journey.'
Currently
Zach and his wife Misa work with TEAM to plant churches in Prague and they serve as insiders as well, as Zach coaches American football and Misa serves in brothel outreaches with Anti-Human Traffiking. They live, work and serve in Prague, Czech Republic, which is located in the heart of Europe.
Zach had once thought of his coming to Prague as an accident – but now he sees God's hand in everything he he has seen.  Several years ago, he had 2 options to be involved with AIA. One project was in East Asia, the other, was in the Czech Republic. He had preferred East Asia because of  the adventure that it was and where in the world it was, but he was the only person interested in going.  With that being true, Zach came to Prague for the first time in 2002. He worked at the Olympic training Center, for the summer, training alongside Olympic athletes from Czech and many other countries.  From 2003-05, he became an intern with AIA in Prague, playing American football, coaching 14-19 year old on the junior team, and helping to train the senior team.  He also had the opportunity to teach conversational English classes at the Sports University of Charles University (the oldest university in Central Europe.).  While on his internship, Zach took Czech language classes for himself, and prepared activities for the people of the university, to provide unity and community for the students. Before returning to the States,  God just set on his heart the overwhelming need for Christ in Prague, and so he returned to Prague for full time ministry in 2007.
Europe is, arguably, the most unreached continent on the face of the planet, with the Czech Republic being one of the most secular counties in Europe, as 89% of Czechs claim to be atheists and there is only .2% of the population that profess to be Christians. The history of Christianity in the Czech Republic is very rich but at the same time very devastating.  Time and time again the evangelical Christians were forced out of the Czech lands over the last few centuries.  This has produced a skepticism that runs deep through the Czech society.  Some would even argue that the Czech people never really embraced Christianity when it arrived to the Czech lands in the 10th century, as Bohemians (western Czechs) returned to many of their pagan roots within a century.  Some of this pagan tradition still exists within and under the Czech culture, even during Christmas.   The skepticism was only enforced by a variety of occupiers who took the Czech lands again and again, most recently from communist rule, which created a great distrust in the lives of the Czech peoples.
Zach loves the integration of mission ministry life. He does not have boxes that he lives in – this is work and this is regular life. He incorporates Christ into everything he does on and off the field and demonstrates this to his players. When coaching or working with the development of football, Zach seeks to coach in a way that communicates excellence, grace, love, honor and something different then his guys have ever seen. He asks himself something like, "If Jesus was to coach a football team, how would He do it?"  As he works through that, he seeks to live this out through word and deed in the culture of the Czech people.
Zach is praying for and asks us to pray for him in these things:
That his football players would see that being a Christian is not about religion, that it effects every part of their lives and that it is a viable option.  He prays that they would become passionate about  God, about their country, their sport and their team. He wants to see them come to faith in their Father and be mirrors, reflecting the light of Christ, reproducing more disciples, and exposing more of the Czech people to who God really is.
That he would be able to demonstrate and encourage excellence in the game and continue to help the game get better and better, doing it all to the glory of God, and for the good of the Czech people.
That he would see a movement at the Sports University of the non-believers who meet regularly and eventually who will turn  to God. He desires for them to progress in their knowledge and understanding of Christ and see that He is their all loving and powerful maker and not the uncaring, boring, stereotype most have made Him out to be.
That God would bless the opportunity to be the offensive coordinator for the Czech junior national team. In this way, he would be moving from just working with his team of 30-60 guys in Prague, to coaching about 50-70 guys from all around the country.
He hopes to gain believers among them and start a revolution, sending them back to their hometowns with Christ in their hearts so they will tell others the good news and change the heart of the country.
And ultimately that he will be able to find someone to take his place in the AIA, and be able to concentrate more time on being a planter of churches in the Czech world.
You can see more of the ministry Zach is involved with at his website – www.zachharrod.com – or to learn more about the organization he works with visit – www.athletesinaction.org
To learn more about partnering with Zach and his work in the Czech Republic, please visit – http://zachharrod.com/support/ or you can make donation by writing a check to "Campus Crusade," designating it to Zach's work by writing #00558012 & Zach Harrod in the memo line and then send it to:
Campus Crusade for Christ
Attn: Contributions
PO Box 628222
Orlando, FL 32862-8222

be a revolution,
zach harrod
www.zACHhARROD.com
www.twitter.com/zachharrod
www.facebook.com/zachharrod
Turning the World Upside Down!
"These men who have turned the world
upside down have come here also, and
Jason has received them, and they are all
acting against the decrees of Caesar, saying
that there is another king, Jesus."  Acts 17:6-7